Area Highlights
A quick view of the most influential metrics in Hunters Creek.
Let's Chat About Hunters Creek
Learn more about Hunters Creek
Hunter's Creek is a 4,000-acre planned community in southwest Orange County. We are comprised of 35 single-family neighborhoods (Ashton, Braddock Oaks, Calabay Cove, Carrington, Casa Vista, Chalfont, Chelsea Landing, Cypress Pointe, Devlin Green, Eagles Landing, Fairways, Falcon Pointe, Flora Vista, Foxhaven, Glenhurst, Heather Glen, Hunter's Isle, Keaton's Crest, Mallard Cove, Mar Vista, Montara, Ocita, Orista Bay, Pace's Mill, Palma Vista, Quail Lake, Raintree, Sandhill Trace, Settlers Landing, Sierra Vista, Tanglewood, Terra Vista, Timucua, Vida Vista and Westshire), along with four condominium properties (Audubon Villas, Capri at Hunter's Creek, Golfview and Villanova), one townhouse development (Chartres Gardens) and seven multi-family neighborhoods (Camden Hunter's Creek, Colonial Grand at Heather Glen, The Cottages at Hunter's Creek, Osprey Links, The Parks at Hunter's Creek, The Parkway at Hunter's Creek and Urbana Luxury Apartments).
There are ample opportunites to get involved…there are social groups and clubs, such as the Hunter's Creek Women's Association and the Fabulous 50s (seniors' group). There are also service volunteer groups such as Citizens on Patrol (COP) and the Community Emergency Response Team (CERT). There are many ways to become involved with a sport, such as soccer, tennis, basketball or volleyball.
Hunter's Creek enjoys top-ranked schools as well. In addition, we host many happenings annually for the whole family, including huge events for July 4th and Halloween, for example. Special camps are also held to coincide with school holidays, including a summer camp which has grown into a big success.
Hunter's Creek is conveniently located to shopping, dining, recreation, theme parks, industry and the airport. Everything you need is right here in Hunter's Creek!
Approximate distances to:
Attractions:
SeaWorld                                                     6.5 miles
Universal Orlando                                      10.5 miles
Disney Theme Parks/ Lake Buena Vista        11 miles
Kennedy Space Center/Port Canaveral         55 miles
Busch Gardens                                              75 miles
Points of Interest:
Orange County Convention Center                8 miles
Orlando International Airport                       13 miles
Orlando Regional Medical Center                 13 miles
Cities:
Cocoa Beach                                                 60 miles
Daytona Beach                                              70 miles
Tampa                                                           75 miles
Jacksonville                                                 155 miles
Miami                                                            221 miles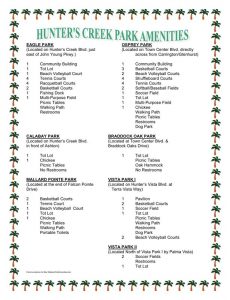 Properties in Hunters Creek
View our selection of available properties in the Hunters Creek area.
Inside Hunters Creek
Check out the latest demographic information available for Hunters Creek.
Overall Cost
VS National AVG
Housing Cost
VS National AVG
Entertainment Cost
VS National AVG
Utilities Cost
VS NAtional AVG
Crime Rate
VS National AVG
Let's Chat About Hunters Creek
Hunters Creek Schools
Learn more about schools near Hunters Creek complete with ratings and contact information.
schools
phone
type
grades
rating
The Best in Hunters Creek
Browse through the top rated businesses in the most popular categories Hunters Creek has to offer.
Dine
Drink
Shop
Perk
Sweat
Groom
Wag